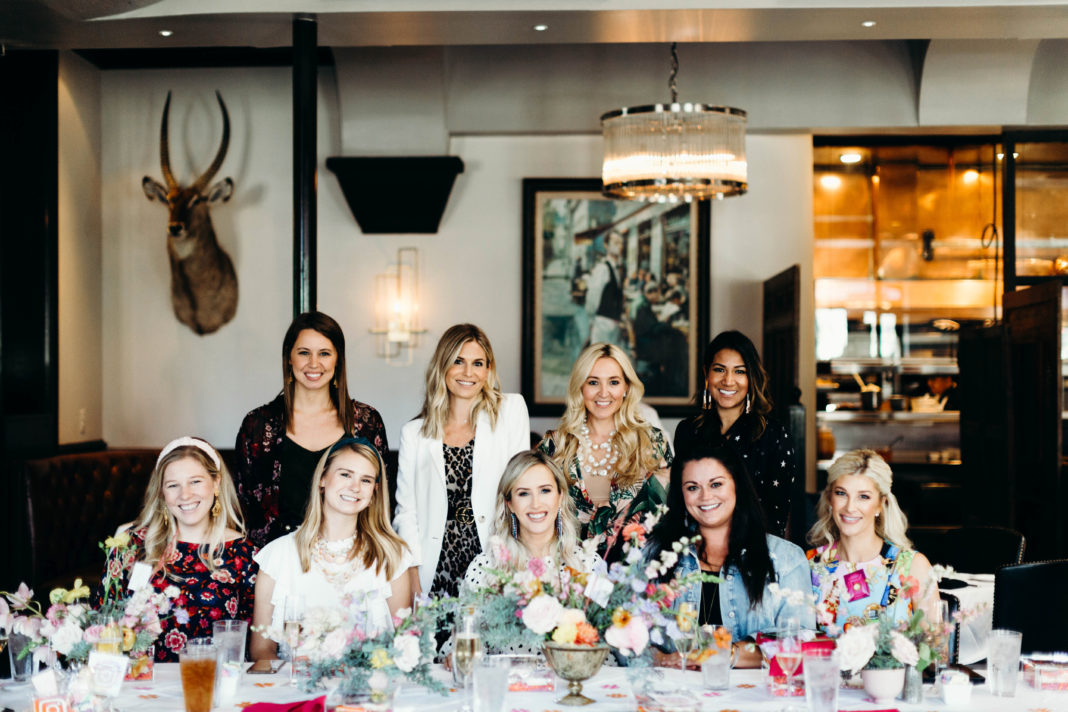 Last week I was lucky enough to get together with some fellow bloggers and influencers for a ladies lunch at Al Biernat's Oak Lawn location. It was such a wonderful way to connect with so many incredible women that I knew online, but rarely get to see in person.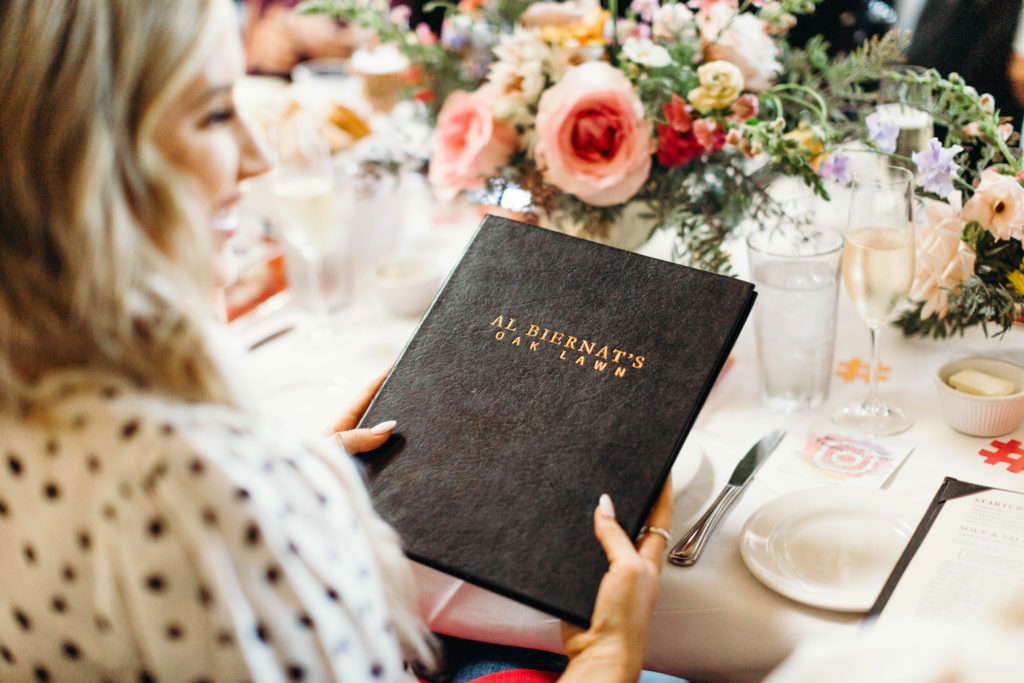 I always love celebrating at Al Biernat's, it's the first restaurant I ever visited in Dallas, and is still one of my favorites. The ambiance is perfect, the food is amazing, and you cannot beat the service. I wanted to share some more details about this lunch in a blog post, as well as tell you about the incredible women that were there so that you can check them out as well.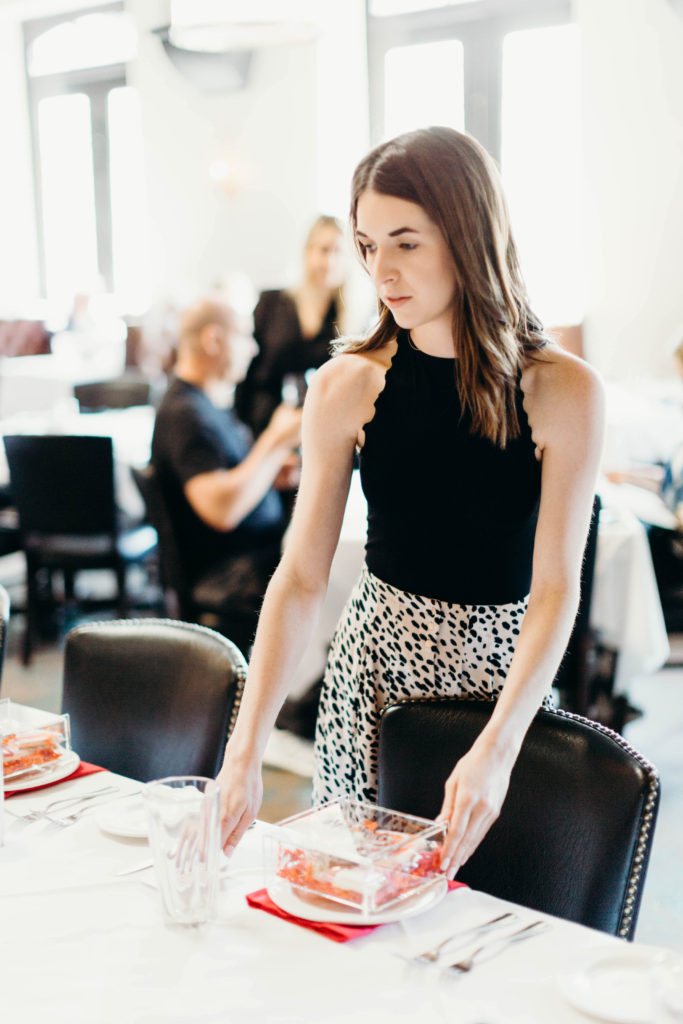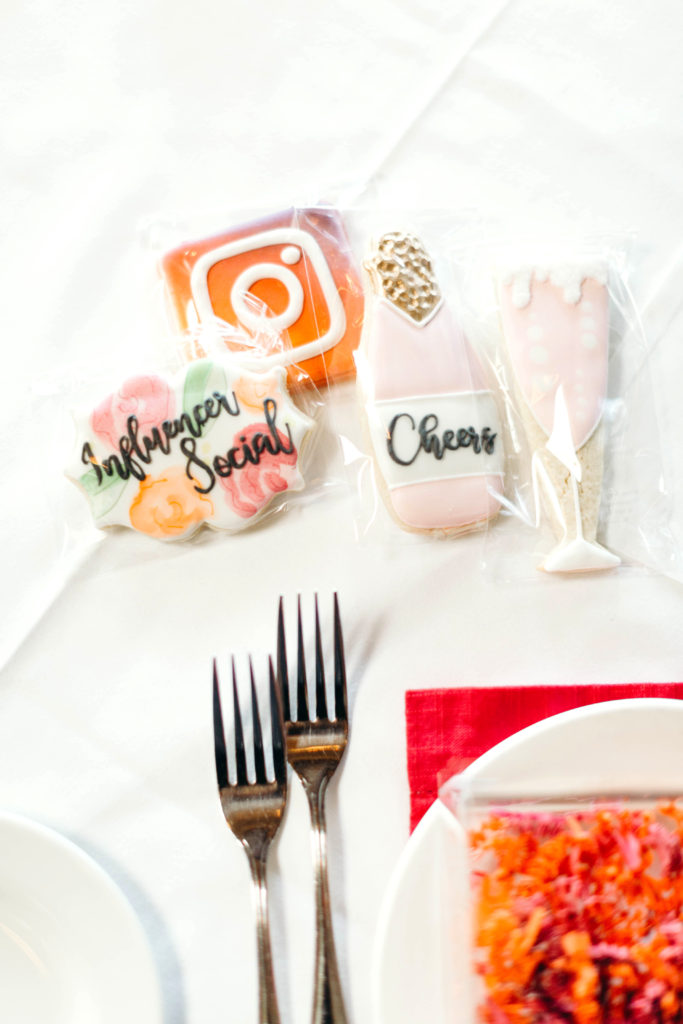 I asked Claire Fowler, of You've Been Clarified to make this event come together. We wanted to celebrate the fact that so many of us connected on Instagram first, and utilize that platform so she created quite a few "instagrammable" details. Claire brought in my signature color, pink, as well as orange to make the table decor and favors pop. The favor boxes were all personalized with the attendees name and filled with custom cookies. My personal favorite was the pink champagne cookie, but the Instagram logo cookie was the most popular, it was so fun and unique.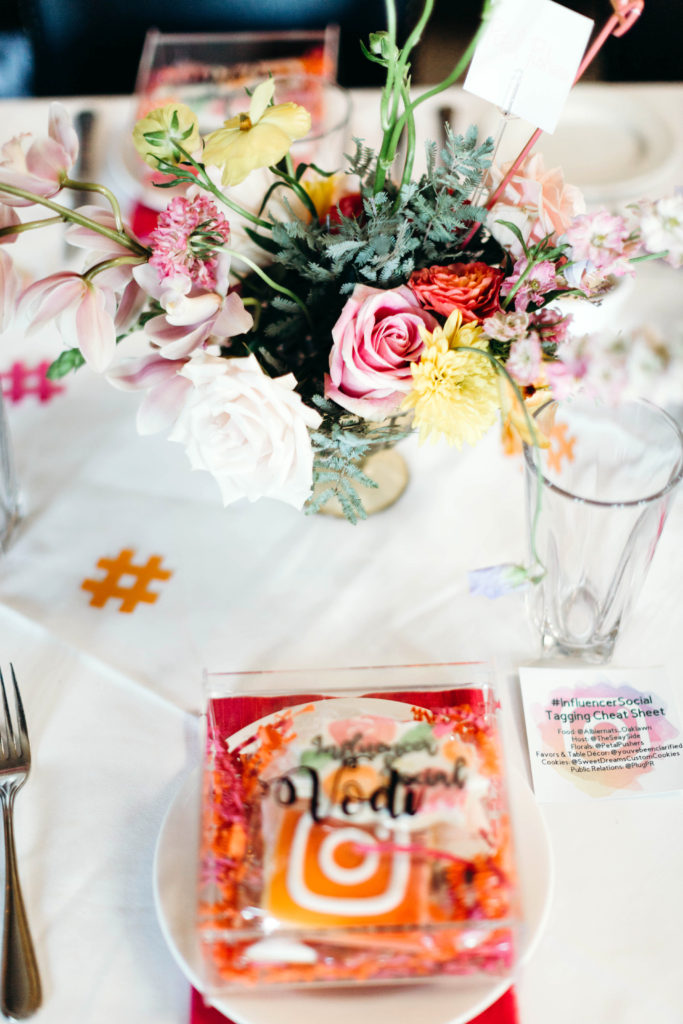 Claire brought in Petal Pushers for the florals, and they were stunning. They specialize in weddings and private events and you can tell from the photos how high quality their work is. They were so easy to work with, and really understood our vision even though this was a much smaller occasion. I also loved that the arrangements filled the table but were low enough to allow for conversation. Claire added hashtag cutouts as well as pink napkins to the table to make the table pop along with the florals. Overall it was a fun and feminine table!
The attendees were all bloggers or influencers that I admire. Some I had met in person and others I hadn't, but all of them utilize their platform in a way that is inspiring and fun to follow along.
Dallasites101: Dallasites101 was founded by Lily and Kara and has grown into one of the largest Dallas lifestyle instagram accounts. Dallasites101 is the perfect resource for new residents to get introduced to the city and for current residents to learn more about what is happening around town. What I admire most about Dallasites101 is the way in which they create and host events that connect Dallasites with businesses around the city. I really admire the fact that they have expanded beyond Instagram and have turned their account into so much more! (@dallasites101)
Fashionablylateboymom: Letty is a wonderful fashion and lifestyle blogger based in Frisco. I love how she mixes fashion, fitness and family into her feed while making all of it look so fun and chic. We connected at an event earlier this year and I have loved following her ever since. She has been there for me whenever I need help or have had questions about blogging and I am so grateful for that! In addition to her great content she is always involved in fun giveaways, so definitely check out her blog and her Instagram (@fashionablylateboymom)!
Onesmallblonde: Brooke is a Dallas based fashion and lifestyle blogger. I learned about Brooke through VIVE and have been following and admiring her work ever since. She is the perfect example of someone who has taken blogging to the next level by launching her own activewear line, as well as her Body Reset Program (featuring some great workouts from VIVE). I really enjoy her style, and am always inspired by her chic and gorgeous posts! (@onesmallblonde)
Opalensbeauty: Lauren and Ashleigh recently launched their self tanning line which includes the first self tanning mousse featuring CBD. They are two gorgeous and fun moms who came up with an innovative and unique idea and brought it to life. I have already fallen in love with their products (use code Seayside15 for a discount on your order) and I know they are going to take the beauty world by storm. It was so fun being able to visit with Ashleigh before their launch an learn more about how and why they chose to launch their company. I think it's amazing that they have taken their dream and turned it into a reality and I will be cheering them on the whole way! In addition to their company Instagram @opalensbeauty, they also have a personal Instagram @opalensbyla that features their fabulous fashion, beautiful families, and fun travels!
PlugPr: Vodi is the founder and CEO of Plug PR. Plug put this luncheon together and helped to connect everyone. While she doesn't consider herself an influencer, Vodi and Plug's work with so many fun local businesses makes their Instagram the perfect place to get "plugged in" to what's happening around town. (@plugpr)
Raisingtinytexans: Lauren and I connected when she hosted an aerial yoga event earlier this year. I was so grateful for the opportunity to connect with other bloggers that day and try something new. I was a little shy and nervous but Lauren was warm, kind, and welcoming and I think that comes across in both her blog and her Instagram (@raisingtinytexans). She is a mother of two young twin boys, and I feel like I learn so much about parenting from her. She also has great style and shares about her fitness journey. Her blog and Instagram have a little bit of everything, and she is so much fun to follow.
Texasmadre: Vanessa is a Dallas based lifestyle blogger. We were connected on Instagram through a mutual friend. She is a mom of four and shares about her family life, fashion, travel and so much more. She is one of those women you see and you just instantly want to be friends with. Not only is she fun, but she is chic, stylish, and balances life as a blogger and a mom of four seamlessly! I know you will enjoy following her just as much as I have. (@texasmadre)

Luncheon Details:
Location: Al Biernat's
Floral: Petal Pushers
Decor and Favors: You've Been Clarified