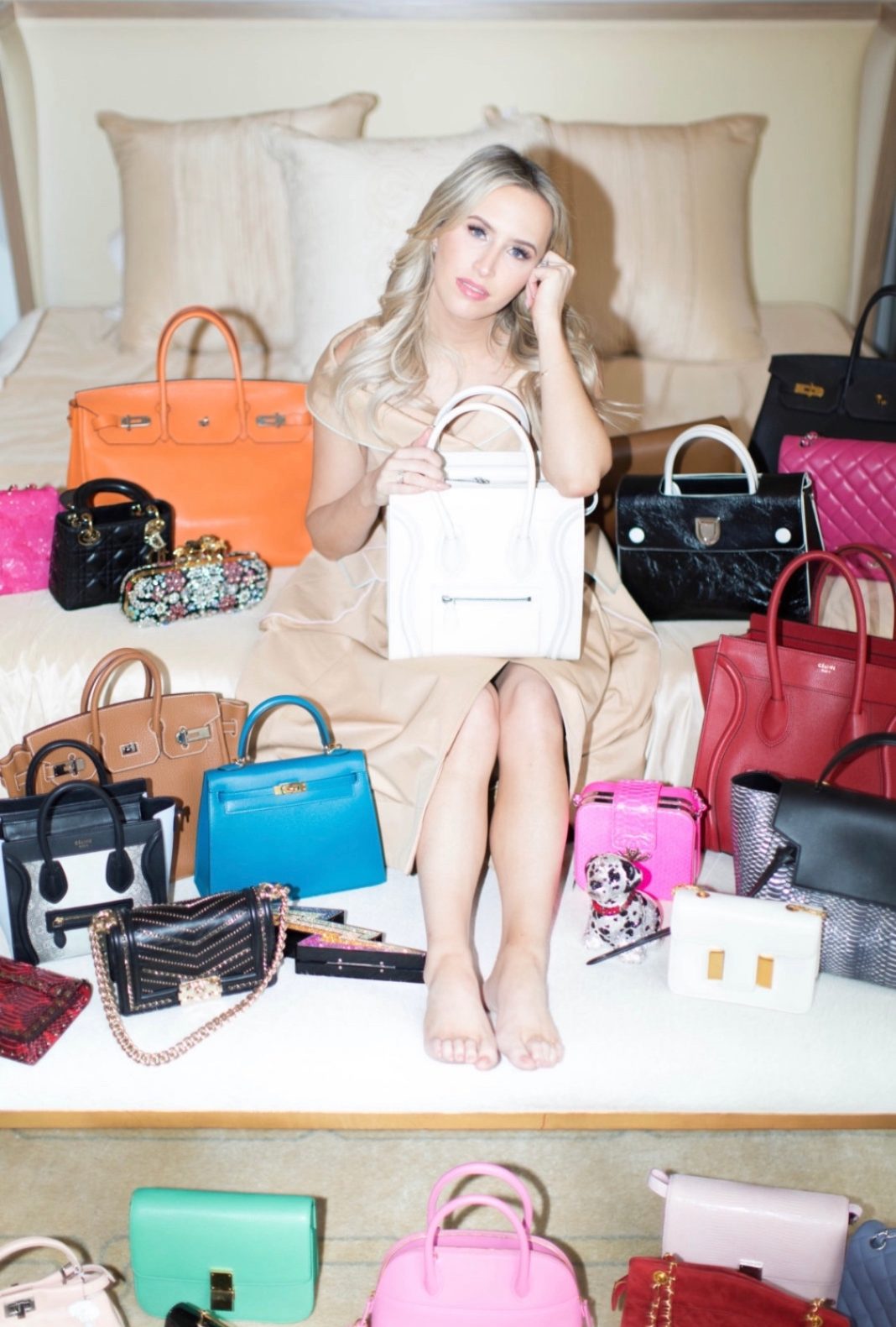 There is nothing quite like your very first designer bag…I remember mine, I fell in love with a salmon colored Louis Vuitton bag with gold detailing. It was sitting on a pedestal in the middle of the store and I knew I simply couldn't live without it. It still has pride of place in my closet. Whenever I see it or wear it I get that same feeling as the very first time I saw it. It really is true what they say – you never forget your first time….
One of my most frequently asked questions is which handbags are worth splurging on? Often people get excited and work hard to save up for their very first designer bag and they want to make sure they select the perfect one. I think it is a very personal question and the answer should vary based on your style, when you plan on using it the most, and, of course, your budget. However, I do think there are some basic rules everyone should live by when picking out their first designer bag.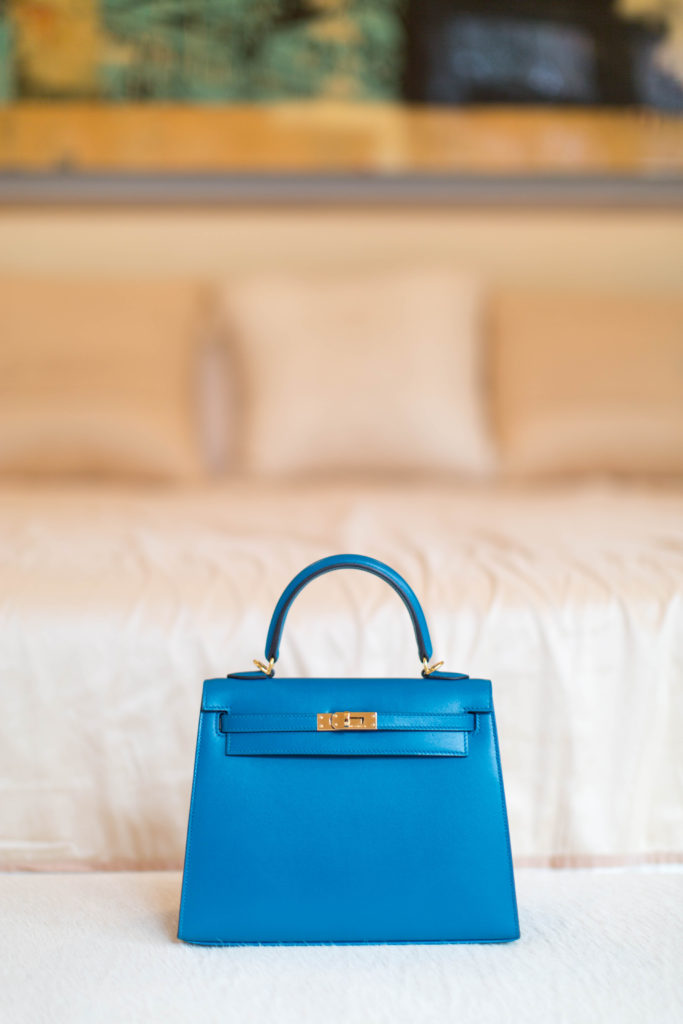 KEEP IT SIMPLE: I tend to shy away from too many labels or giant logos on handbags (or anything for that matter). There are exceptions, but for the most part those tend to look the most dated the fastest. Louis Vuitton, Fendi and Gucci all have patterns that read more neutral but I find those styles to be a bit showy. Pick something that will always look stylish, and that doesn't represent one particular brand but represents you and your style.

GO WITH A NEUTRAL: For your very first investment piece you should go with a neutral. A pretty black, nude or white is always going to last and go with the most items in your closet. If you are spending a lot on a bag you want to ensure you get the most use out of it. But, you know yourself best – for you, red or pink might be the color you can use most often and if that's truly the case –go for it!

PICK THE RIGHT SIZE: It's important to pick the right size when splurging on a bag – my advice? Go small. I think that large bags are fun and make a statement, but they aren't as versatile. You can carry a small bag during the day or at night, and it looks chic with every type of outfit. Don't get anything too tiny. You want to make sure it holds your phone and wallet and anything you need to carry throughout the day.

HAVE FUN! As I said before, you won't ever forget the experience of finding and falling in love with your first designer bag so make sure to enjoy it! You worked hard to be able to treat yourself, and you should soak up every second of it!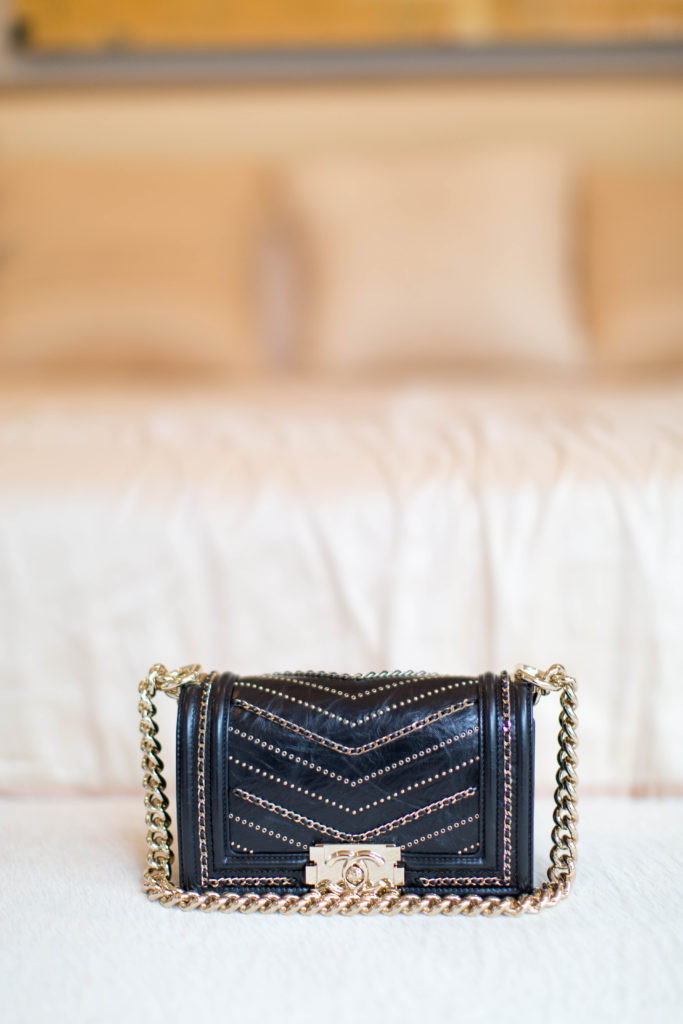 MY TOP PICKS: The ultimate splurge bags are the Hermès Kellyand the Hermès Birkin. Although they are at the highest end of the spectrum in terms of price point, they are the best quality, and have yet to go out of style. However, as much as I love a good Birkin, I think the absolute best splurgebag one should add to their collection is the classic Chanel bag. It is well made, easy to wear day and night, and goes with absolutely everything. The color, and textures vary but Chanel is always classy and timeless. As I mentioned before, I recommend a good neutral or black bag, but I think a lovely light pink, or even a fun metallic can still work and read just as neutral as the classic colors depending on your style and wardrobe. In addition to some great options from Chanel, I also found pieces from Dior, Fendi, Celine, Gucci, Balenciaga, YSL and Tom Ford that are all amazing options as well.
The Look For Less – $1,000 and Under
I found some great bags for under $1,000 that look like they cost much more. They vary in shapes and sizes but they all have that ultra high end look and feel. I love the round rose gold bag as well as the acrylic white one. In fact, I may need to add both of them to my collection…!
$500 and Under
I absolutely love the choices at this price point. There are so many bags that give you the really luxe look without breaking the bank, but I also think that because you aren't going crazy with your spending, you can get a bit more playful with the shapes and colors. I love the pink bow bucket bag, , the lantern bag, of course the takeout bag. I think they feel classic because of the coloring and materials, but the shapes make them a little more fun.