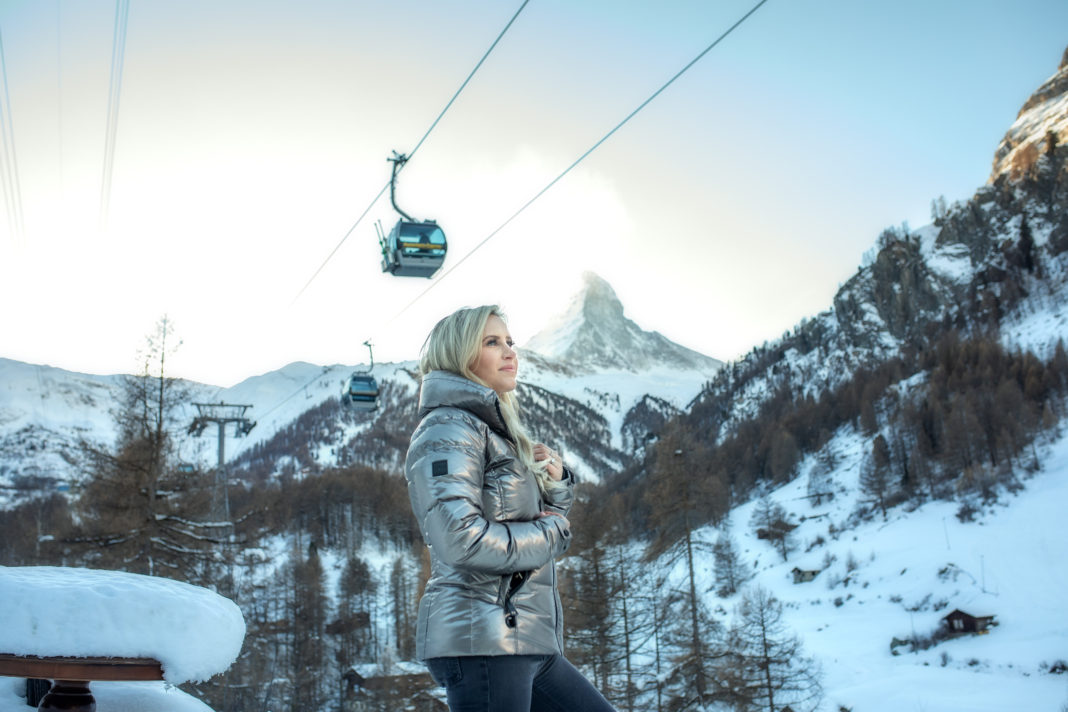 I have to be honest and say that I left a little bit of my heart in Zermatt. Very rarely does a place exceed your expectations, but Switzerland did for me. I had always heard wonderful things about the scenery, people, and the food and I was not disappointed. There are some places you visit and appreciate, and some your heart wants to get back to as soon as possible, and I absolutely fell in love with Switzerland, I cannot wait to go back!
Where We Stayed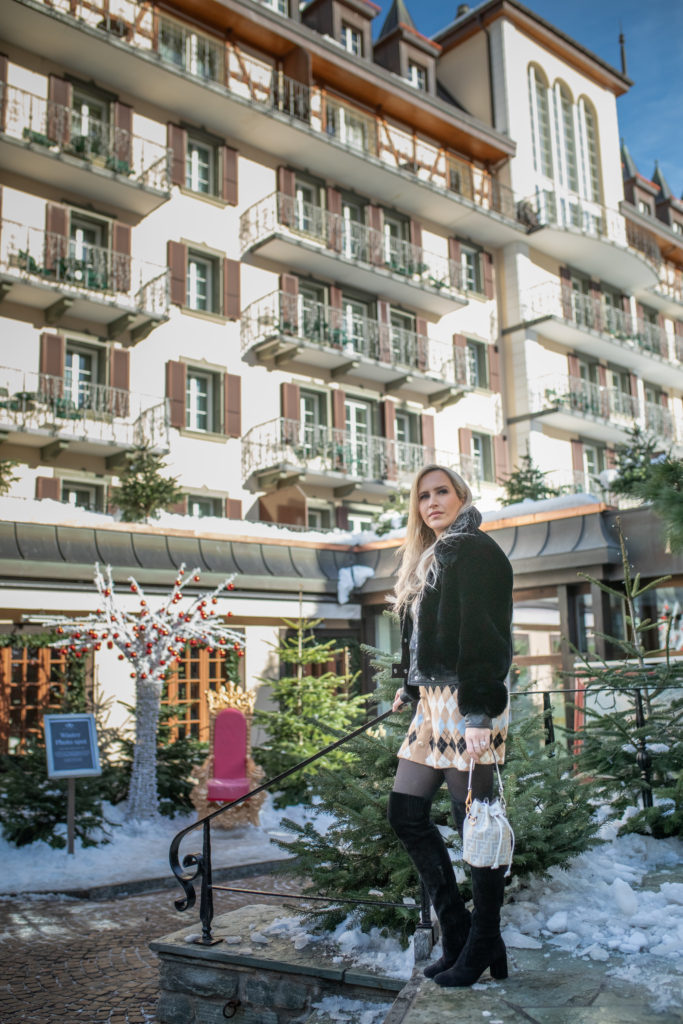 While in Zermatt we stayed at the Mont Cervin Palace, and it quickly became one of my favorite hotels in the world. The service was unparalleled, the rooms were gorgeous, and the location was unbeatable. The hotel opened in 1852 and has grown and adapted since then to be the premiere hotel in Zermatt. While we looked at other options we were drawn to the charm and the amenities (they have an incredible spa) of the Mont Cervin Palace.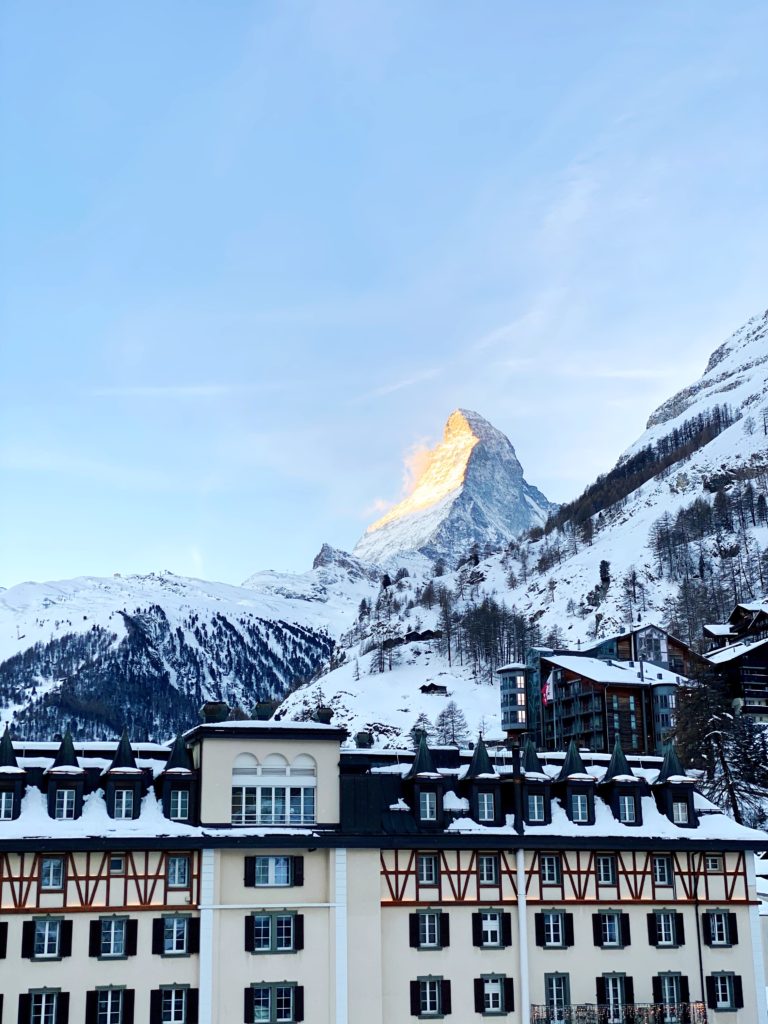 Our room was located in the "Petit Cervin" hotel, which has Swiss Chalet style rooms and incredible views of the Matterhorn. It is easily accessible to their Michelin Star restaurant Capri, and is connected to the main hotel via an underground tunnel. I loved how spacious and cozy our suite was, and my husband pointed out that it was the first time in a long time I didn't ask the hotel to switch rooms (I admit that I can be a bit of a snob about the amount of space and the view in a hotel room). The view of the Matterhorn from our suite was breathtaking, and there was something so special about watching the sunlight hit the side of the mountain and start to glow in the mornings.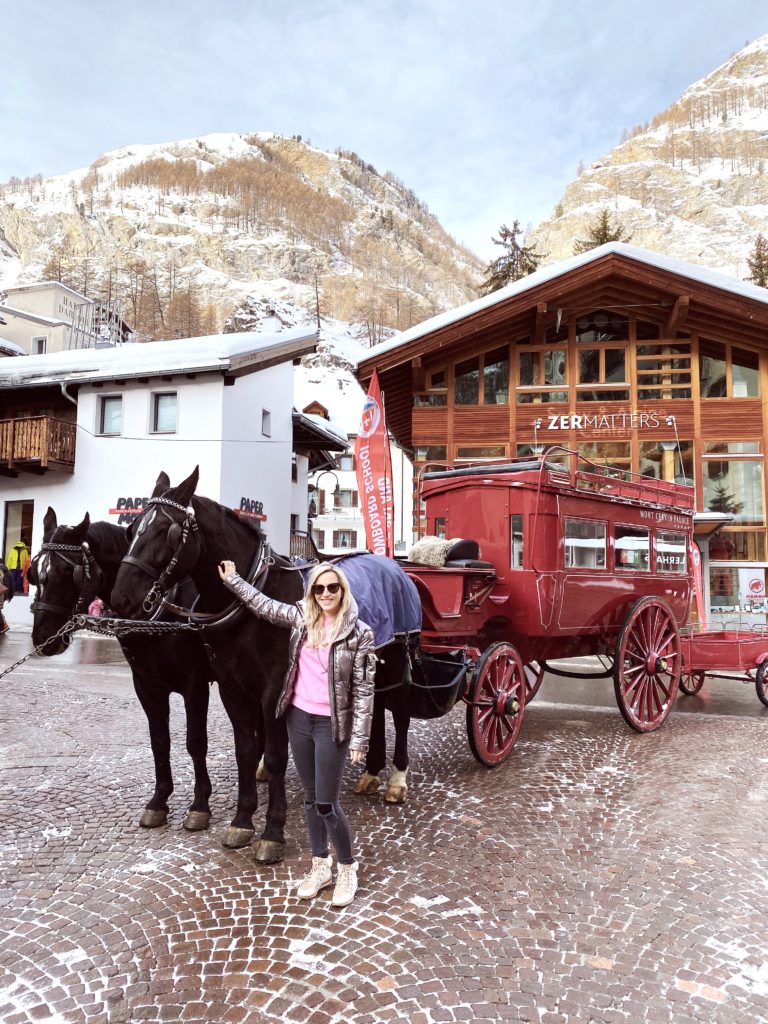 I cannot recommend the Mont Cervin Palace or the Petite Cervin enough, and while it was the perfect place for a romantic winter getaway I am also dying to come back in the summer. I was also impressed with how child friendly the hotel, and Zermatt in general, were. So I am already planning on coming back with my boys.
What We Did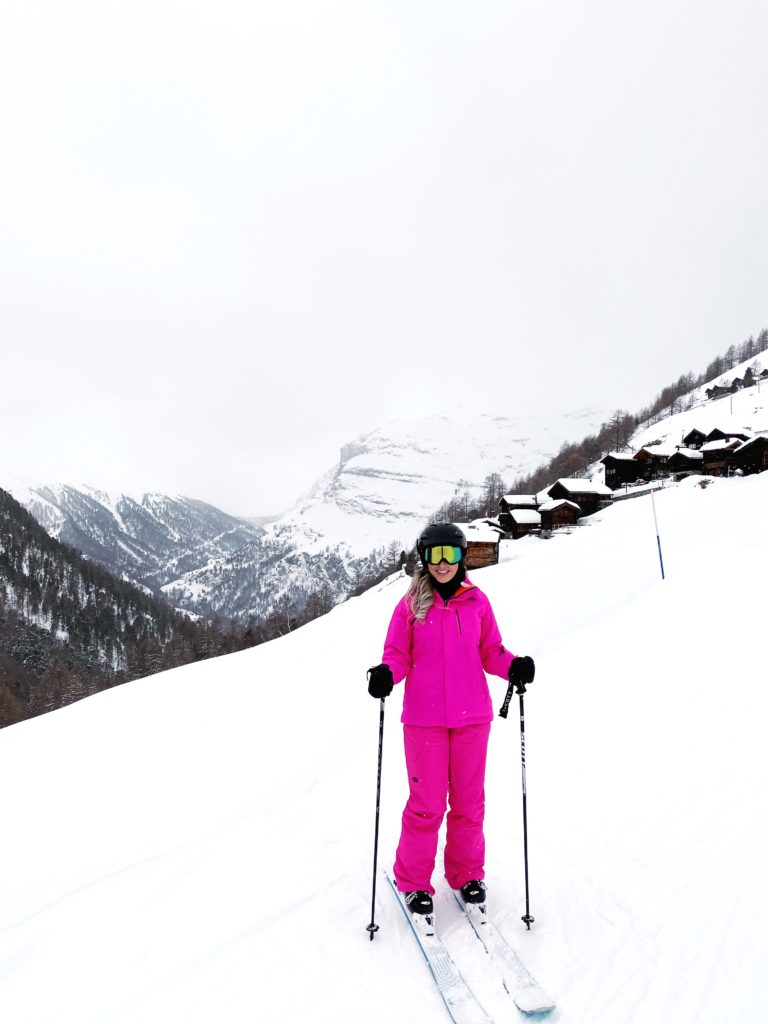 Zermatt is known for its skiing. Not only is it impressive and captivating to be able to ski so close to the Matterhorn, but you are also able to Ski into Italy for the day which makes for a fun adventure. We enjoyed our time on the slopes, and while the skiing was challenging it  was a lot of fun.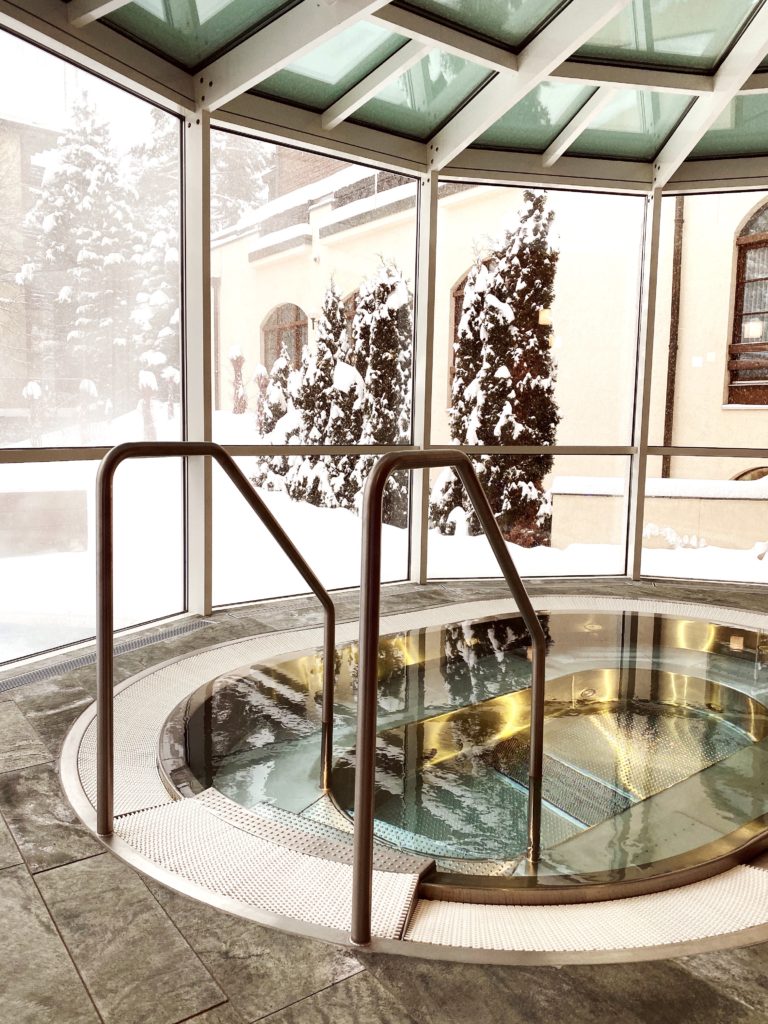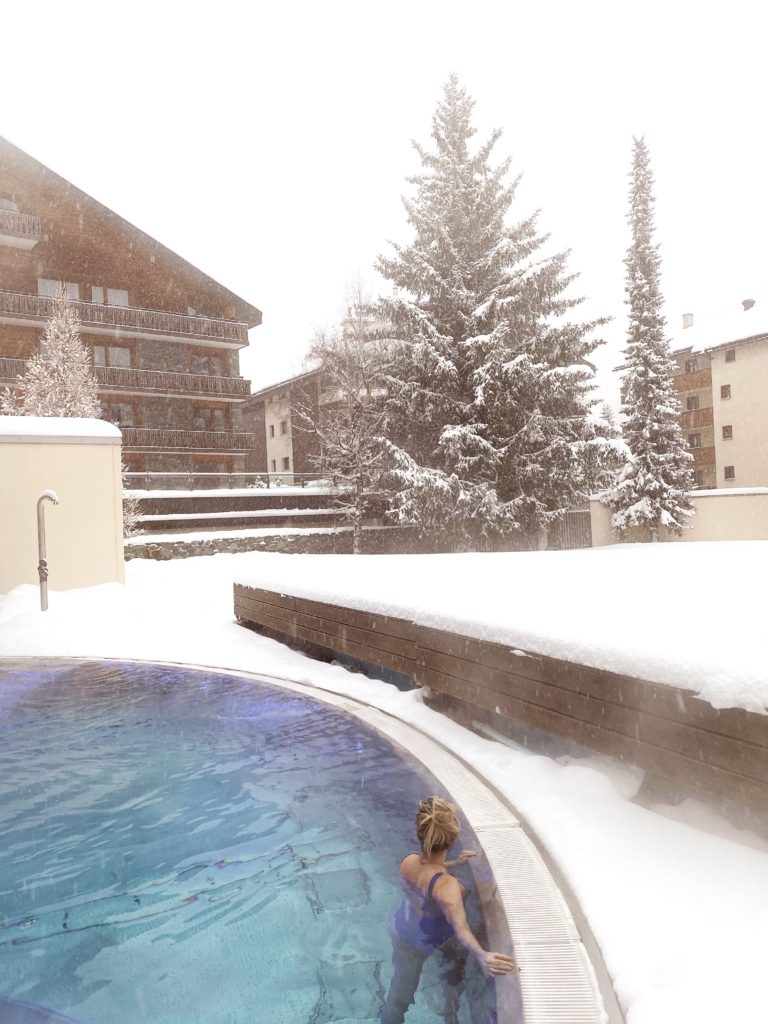 While we spent a few days skiing, we also took time to explore and shop around the city and enjoy the spa at the Mont Cervin Palace. While Zermatt is definitely an active destination for people who love to ski, and hike, you can also relax there. My husband and I had a busy winter and loved that we found a place where you can get out and explore, be active, but also take the time to reconnect and rest. The spa at the Mont Cervin was wonderful, and their outdoor poll and indoor hot tubs are the perfect places to relax, unwind, and enjoy the view.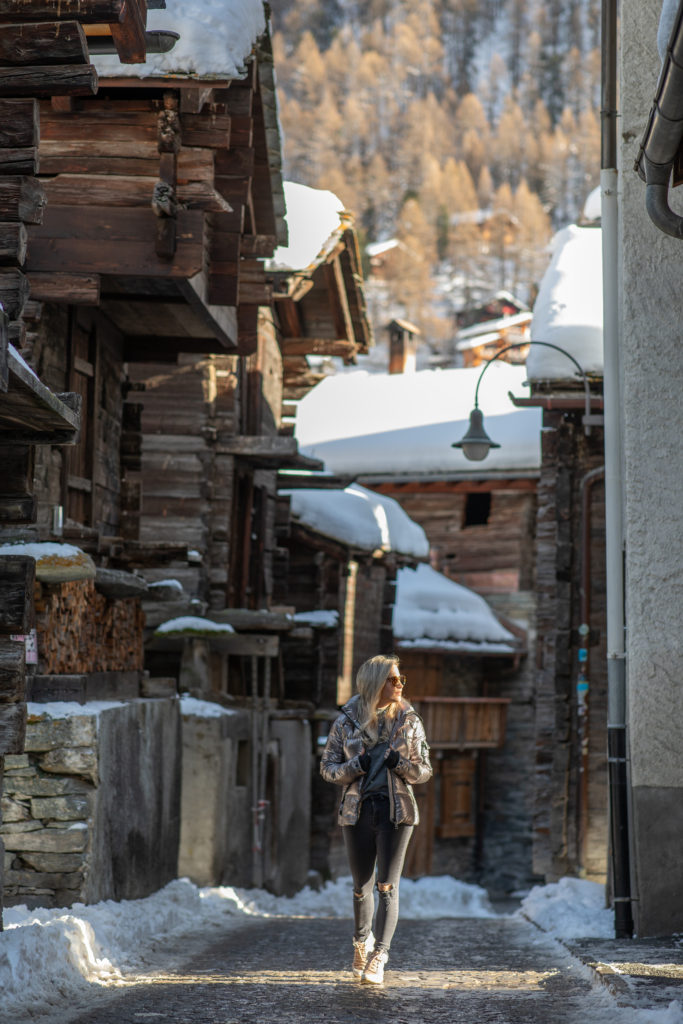 Make sure to take a walk through the old town. Some of the buildings date back to before the 1700's. It's amazing to imagine what living in Zermatt must have been like. There is also a Matterhorn museum covering the history of the town and the mountain that is worth stopping by to see.
Where We Ate:
Restaurant Schäferstube
Our first night in town we went to Restaurant Schäferstube and it was the perfect introduction to Switzerland and Zermatt. The smell of warm fondue fills the air as you step into the wood lined restaurant, and my mouth started watering immediately. The atmosphere was warm and cozy and it felt like I walked into a movie set. Although they are known for their lamb and raclette we could not resist trying their other specialty-fondue. It was light, filling, and delicious, and they even offered gluten free options and gluten free bread.
Myoko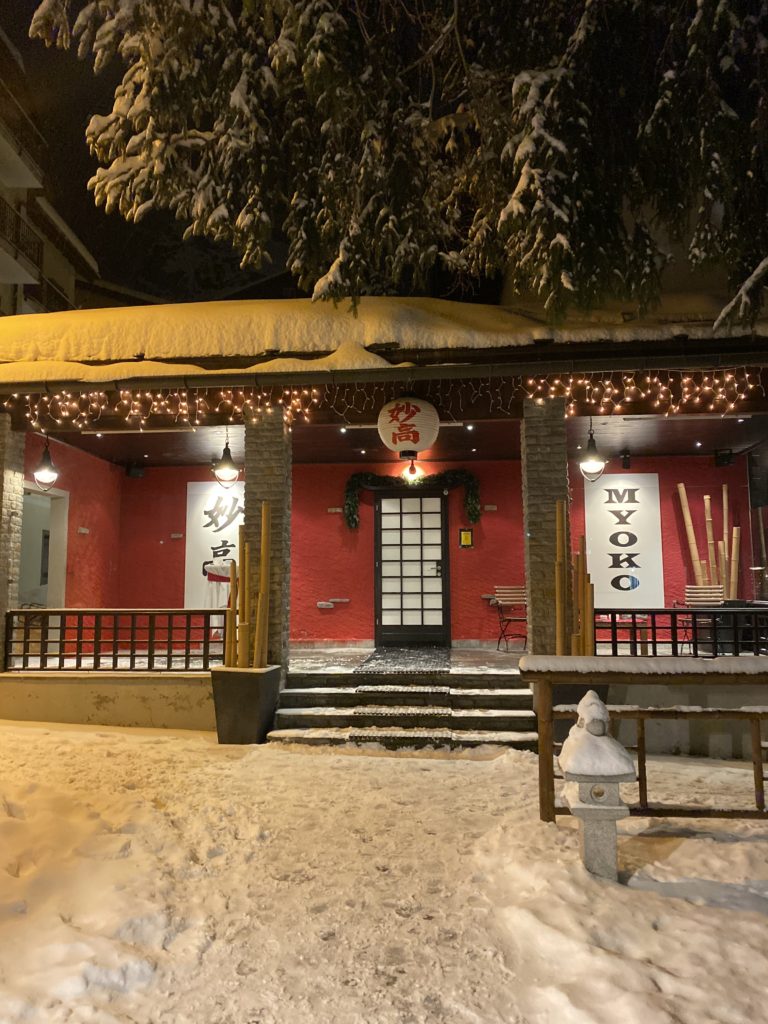 While sushi is not a cuisine that comes to mind when you think of Switzerland, we were pleasantly surprised to find Myoko in Zermatt. Myoko is part of the Mont Cervin family, but is in a more traditional Japanese style building nearby. They are focused on sushi and sashimi and their dishes were flavorful and delicious. We really enjoyed the change of pace from the heavier meals we had been eating in Zermatt and would definitely go back.
Restaurant Findlerhof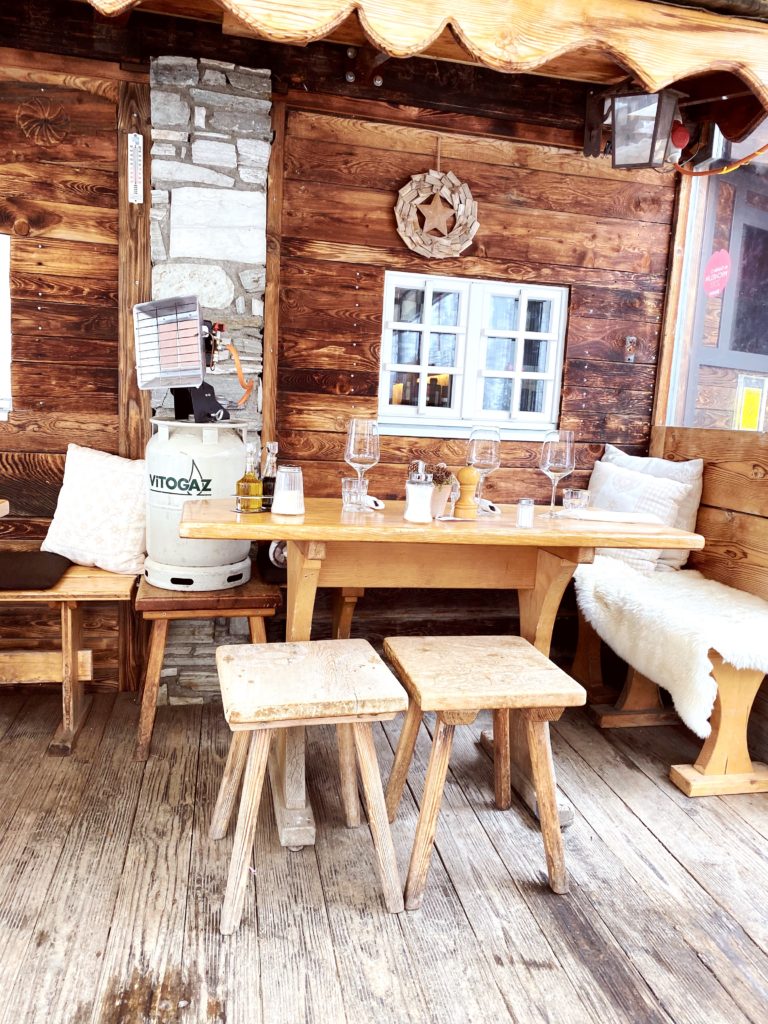 Restaurant Findlerhof might be the most picturesque place I have ever eaten, and one of the most delicious. You can only ski in/out or hike in/out of this restaurant but it is worth the effort to get there. They have two lunchtime seatings at noon and two o'clock and people are ready to come eat and drink. The old wooden restaurant is easy to miss but the little area it's in stands out because of the church off to the side of one of the runs. I am so grateful we found it because it ended up being one of your most memorable meals in Zermatt. Michael ordered a mussels pasta and was delighted, I had the heartiest and tastiest vegetable soup. It was so fun to look out on the Alps in such a cozy place and enjoy the amazing food and interesting company. Skiiers from all over the world descend on Restaurant Findlerhof for the good food and drinks and we enjoyed dining and chatting with them, it only added to the charm of the restaurant. This is an experience you shouldn't miss when you are in Zermatt and it is certainly worthy of it's Michelin Star.
Le Gitan
Le Gitan is warm and inviting, and you notice that before you even make it inside the restaurant. A friendly hostess greats you and helps you hang your coat as you step inside to warm up. The wood fired grill is front and center in the candle lit dining room because that is what the restaurant is known for, and it ensures that it smells and looks pretty incredible inside. The staff was welcoming, and the food was delicious. I highly recommend sharing different items from the grill so that you get a little taste of everything they have to offer.
Restaurant Whymper-Stube
My husband planned our last dinner in Zermatt to be at the Whymper-Stube because he heard it was some of the best fondue in the world, and he was right. The restaurant has been around since the 1960's and is named after Edward Whymper who was the first man to reach the summit of the Matterhorn in 1865. The Whymper-Stube is so rustic, cozy and festive that it feels as if you are walking into someone's home kitchen. While they offer a variety of local Swiss delicacies, they are famous for their fondue and it is a meal that shouldn't be missed in Zermatt. The fondue was incredible, you could taste the quality of the cheese and accoutrements, and it was filling without being overwhelming. I have to admit that sometimes, in my dreams, this fondue makes an appearance and I wake up hungry and missing Zermatt.
Where to Grab A Drink
There is no shortage of Après Ski options in Zermatt, and they are all pretty charming, but here were a few of our favorite places to pop in for a drink.
Harry's Ski Bar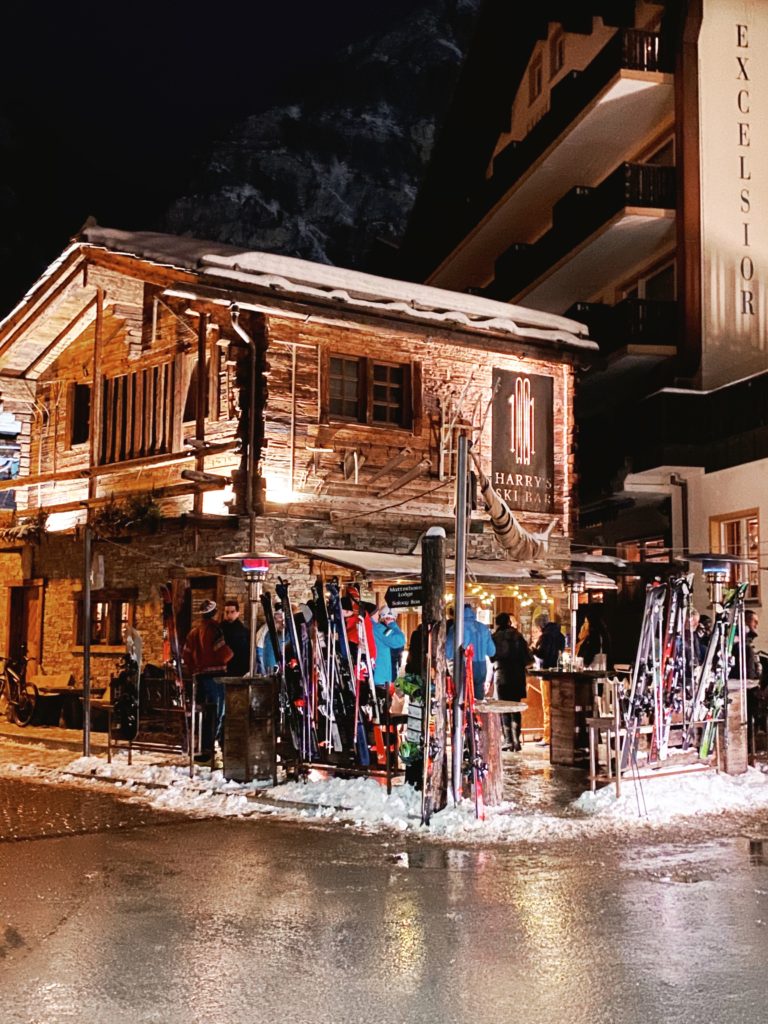 There was not a time that we walked into or by Harry's Ski Bar when it wasn't full of people. There were skiers fresh off the mountain and people just looking for a good time. The music was loud, the atmosphere was fun, and the drinks were strong. It is definitely the place to be in Zermatt!
Elsie's Wine and Champagne Bar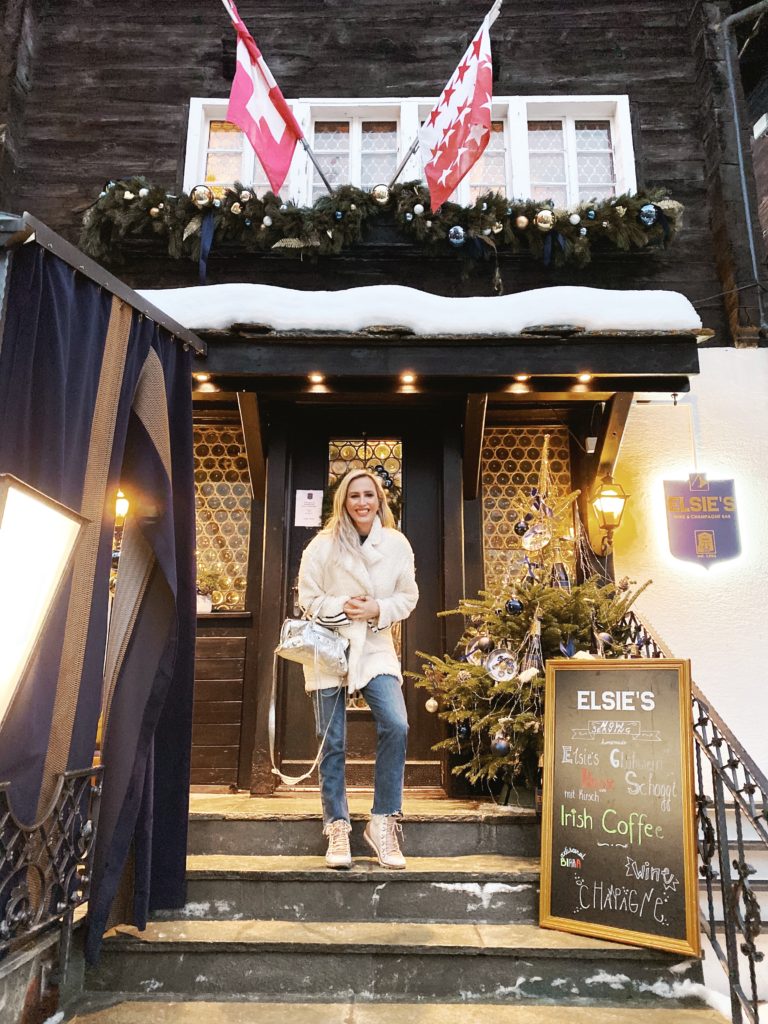 The Valais style bar was originally built in 1879 but was purchased by the famous Elsie in 1961. I saw the champagne Christmas tree outside and had to check it out, and I was instantly charmed. The interior is small and warm, but very chic, and the champagne and wine list are top notch. We popped in almost every evening for a selection of local cheese and a nice glass of champagne. It might be my favorite bar in the world, I wish I could have made it my permanent happy hour spot. There is also a very small and chic restaurant upstairs that I heard was amazing, but that we did not have the opportunity to try.
Hexen Bar
The Hexen Bar is located off of the Main Street in Zermatt, and is a witch themed bar known for brewing up good drinks and a lot of fun. I never learned why the bar has a witch theme, but it was a fun change of scene, and is a quiet spot outside the hustle and bustle of Main Street.
Stars Bar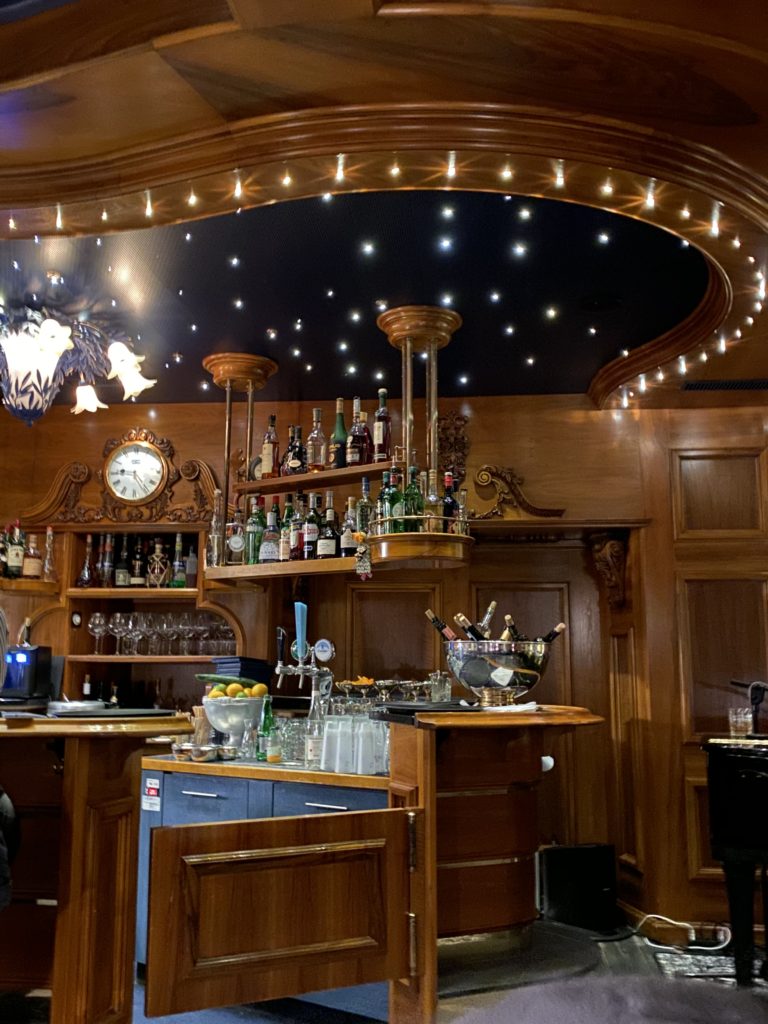 Located in the historic Zermatterhof Hotel,  the Stars Bar is a beautiful cocktail lounge featuring live music and a great cocktail list. While we didn't linger long we really enjoyed the ambiance and craftsmanship of the bar.
Joseph's Bar
Located in the Mont Cervin Palace, Joseph's Bar is cozy, inviting, and had great cocktails. We enjoyed lounging by the fire and people watching there during our stay.
Things to Know:
Electric Cars: The town of Zermatt is car free, they didn't want to risk smog affecting the stunning views the town has of the matterhorn. This does not make getting around difficult at all, there are plenty of electric taxis, and hotels like the Mont Cervin Palace even have horse drawn carriages to help you get around. It is also a very walkable city, which is how we got around most of the time.
Getting There: Zermatt can be difficult to get to because of it's mountain location. You are able to drive and park at a nearby train station or you can take the train from any major city in Switzerland. It is quick and easy.
Packing: Dress warmly for winter! The temperatures drop, especially at night so make sure to pack a lot of layers. Nowhere in Zermatt was terribly formal so pack comfortable clothes!