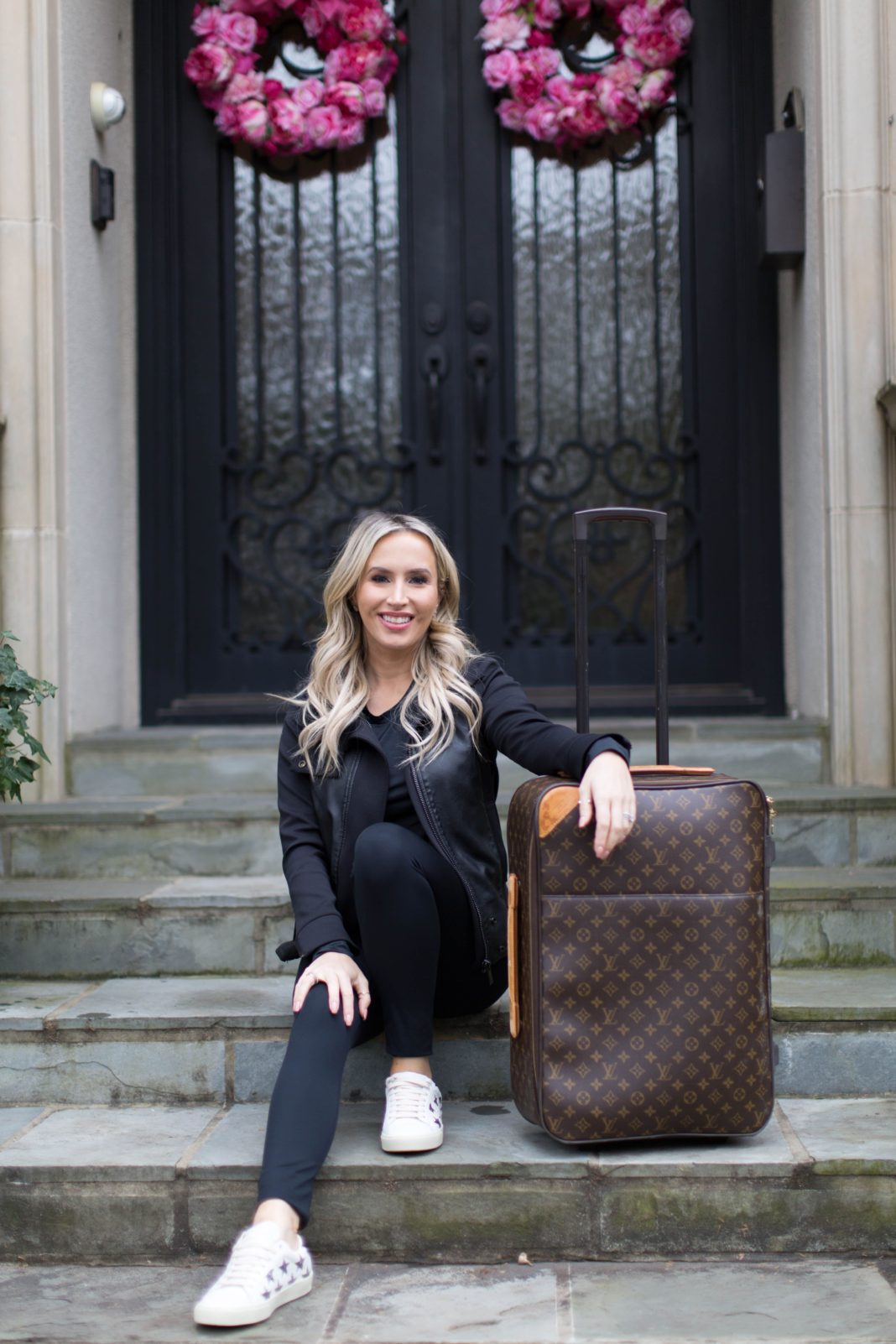 I get so many questions about what I wear when I travel so I thought I would put that information in a blog post! I have three go to's I rotate depending on the weather, destination, and my flight time. I try to look put together at the airport, but late nights and early morning flights call for the comfiest clothes. I do change into "chic sweats" on overnight flights and I will link some of my favorites at the end of the post.
Travel Look One: 
This outfit is my favorite travel outfit. It takes me from one climate to another, while looking chic and put together. This Veronica Beard Blazer looks good from door to door because it doesn't wrinkle, I love pairing it with a simple and comfy Madewell Tee or a fun designer one to give it a little flair. Mother Denim Jeans are one of my go to denim brands because the fit is so comfortable, and they stretch during the flight to give you breathing room without getting baggy. Top it off with your favorite suitcase (I have had this one since college) and a chic pair of slides.
Shop This Look:

Travel Look Two: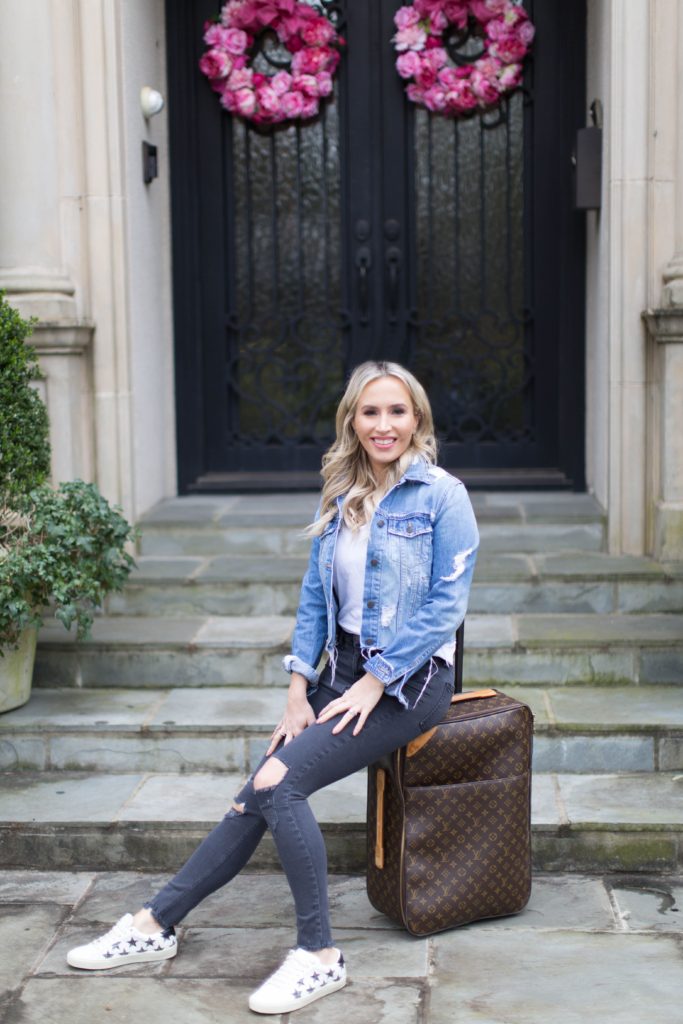 This look is my favorite to wear when traveling to a warm climate because I can carry a lightweight pair of shorts in my bag and change right before we land, or at the airport. I am always cold on the plane so I have to wear a jacket, and this denim one looks good with jeans or shorts. Finally top it off with a fun pair of tennis shoes – I get so many compliments on these!
Shop this look:

Travel Look Three: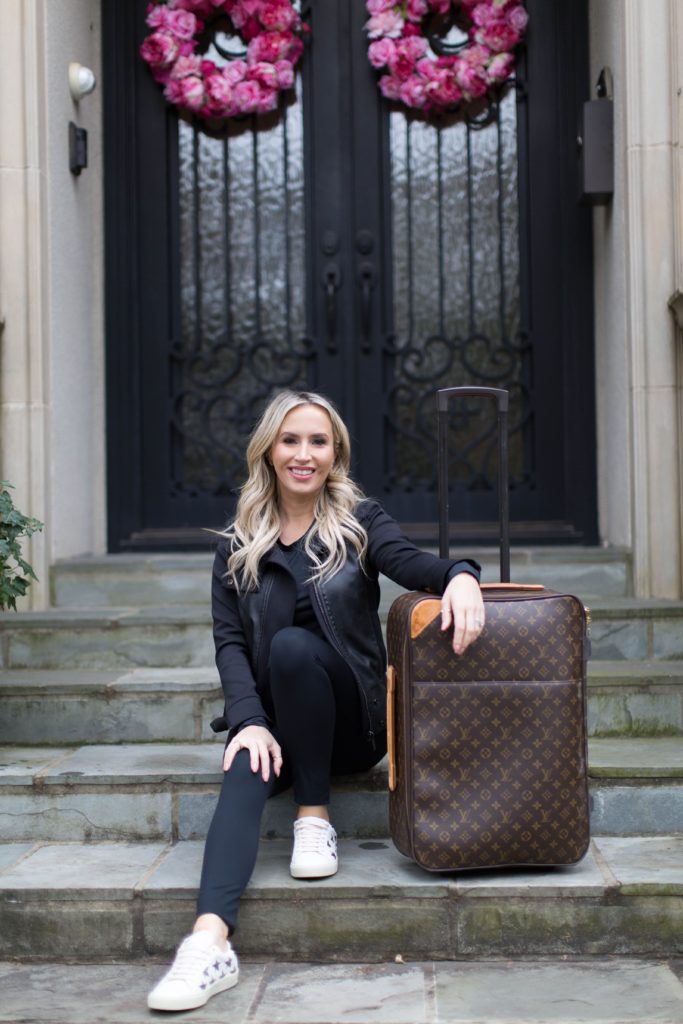 This look is what I wear when I want to be as comfortable as possible. Many of you know I love a good athleisure look, and this one is perfect for travel. It looks good, but it's also very comfortable for those long or overnight flights. I pair my favorite workout leggings with my favorite workout tee and a chic jacket to pull the look together. Of course a good pair of sneakers are a must to get you through the long flight.
Shop this look: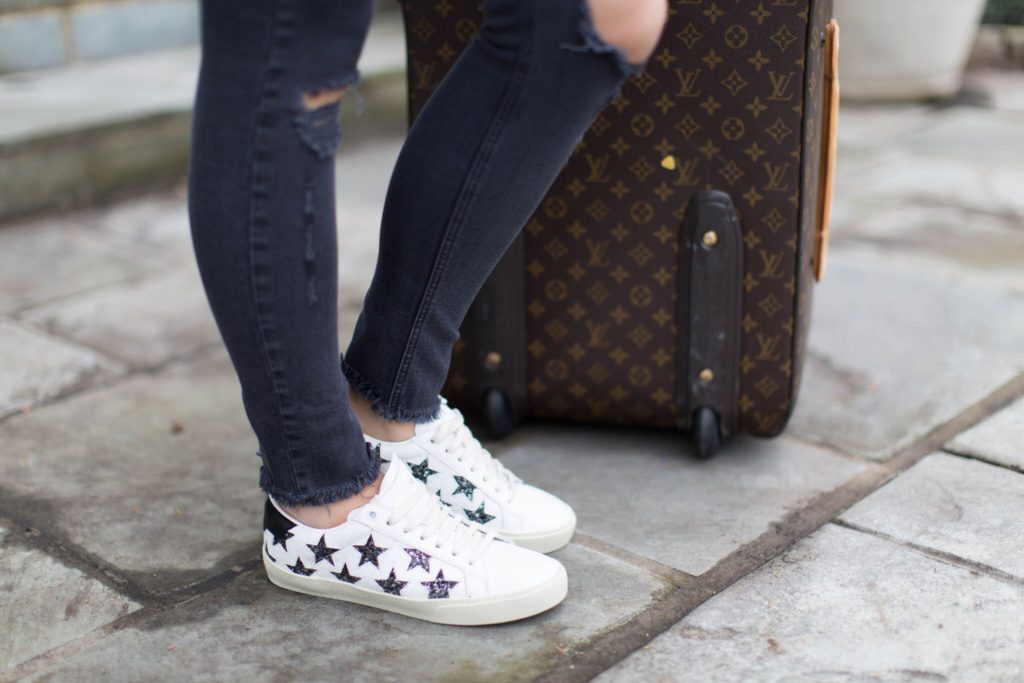 While I do like a good pair of slides for the airport, more often than not I choose a pair of tennis shoes so I can be as comfortable as possible. Here are some of my favorites:

Travel Look Four:
Although not pictured, I will occasionally wear a maxi skirt and sandals if it's too hot to wear jeans. Here are some of my favorite picks for that look.

Overnight Flights: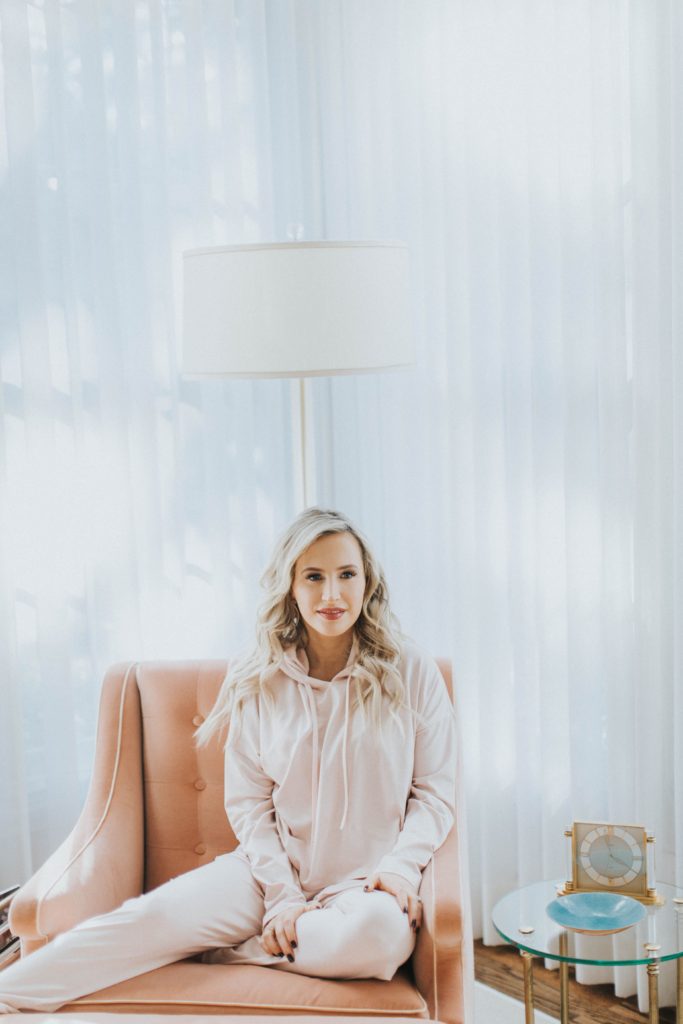 When traveling on a long haul flight I do like to bring a cashmere travel set to sleep so I don't have to use the germ covered ones on the airplane, a chic pair of sweats to change into and a pair of cashmere socks. I try to get as much sleep as possible. Here are some of my favorite sweats and travel sets: