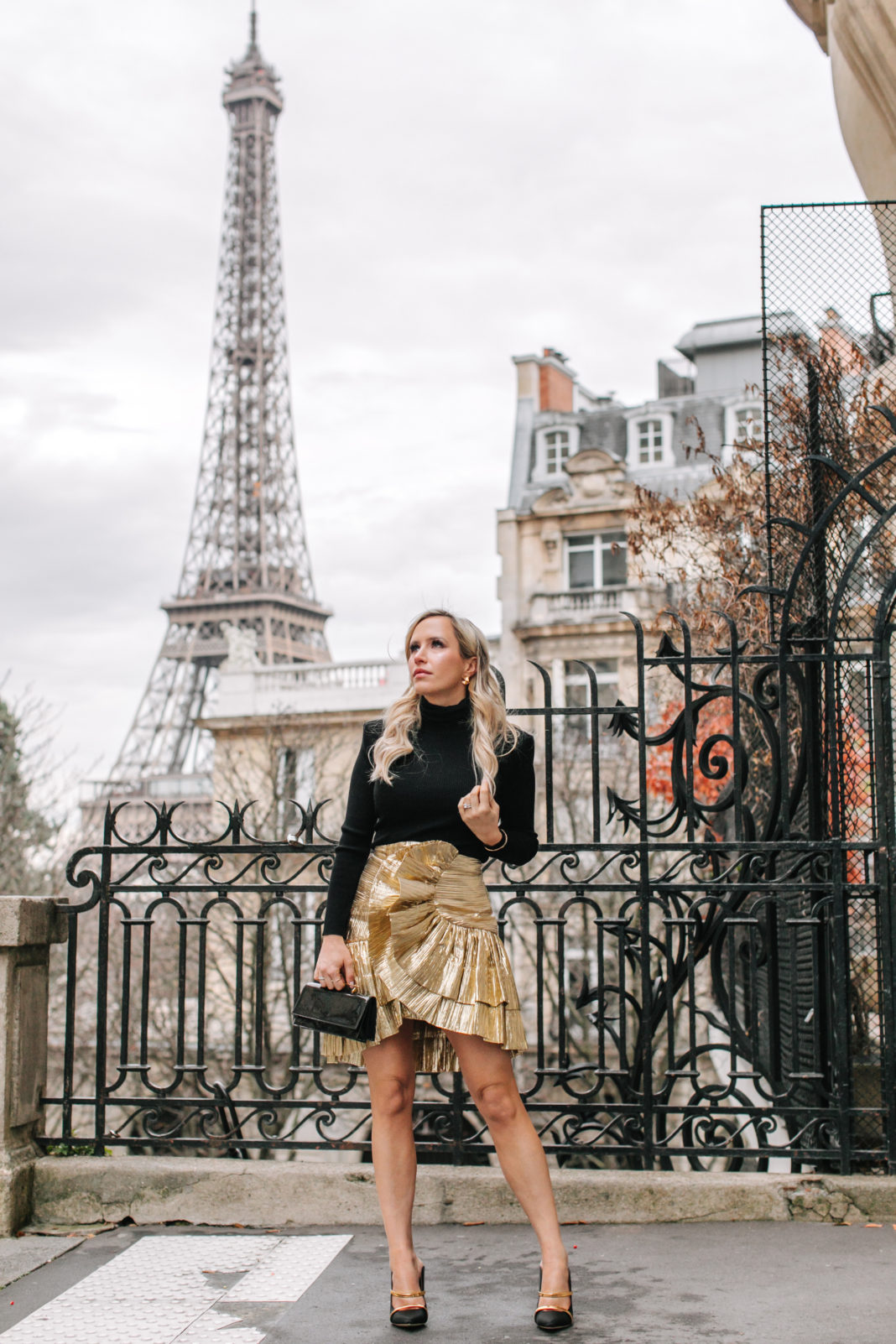 I have been lucky enough to visit Paris many times throughout my life, starting with family trips as a child, and several times with my husband for a romantic getaway. Our most recent trip to Paris was to celebrate the 40th birthday of a dear friend. Once the clock struck midnight, we rang in her new decade underneath the twinkling lights of the Eiffel Tower. This has truly set the bar for any birthday celebration going forward. It was absolutely perfect. But, let's be honest, regardless of the reason, a visit to Paris is always a good idea…
WHERE TO STAY
Four Seasons George V – Our go-to in Paris is the Four Seasons George V. The location (just off of the Champs-Élysées) is perfect, and nothing feels quite as magical as walking into the lobby festooned by exquisite floral arrangements designed by Jeff Leatham. I had never been during the holiday season and popped in to check out the Christmas decor. It was nothing short of magical. I love it in summer but feel it might be even more impressive during the holidays.
Plaza Athénée – The Plaza Athénée was the first place my husband and I ever stayed in Paris together, so it holds a special place in my heart. It is chic and charming and to no surprise is the location of the iconic Sex and The City episodes. It is a place you shouldn't dare miss on your trip to the City of Love, even if you just pop in for a drink.
Saint James Paris – We had never stayed at the Saint James and were excited to try some place new. The service was some of the best I have had at any hotel anywhere in the world, and their bar was the perfect place to hole up in the winter (or during the riots) with it's warm wood finish and classic yet cozy atmosphere. Our suite was beautiful, and I loved the atrium sitting area and piano in the living room. Each suite is unique so make sure to request whichever one catches your eye.
WHAT TO DO
Explore! One of my favorite activities when I travel is to walk around the city. I love to explore and stumble upon beautiful streets and sights. You never know what you might find!
The Centre Pompidou – This trip was the first time I visited the Centre Pompidou, but it certainly won't be my last. The welcome party was held at Georges, on the top of the building, but we started with a private tour of the galleries. It was incredible and so beautiful to see all of the artwork at night.
The Louvre – It is the world's largest museum, and one of the best, with a little something for everyone. I never miss a chance to stop in during a trip to Paris, and this time was the perfect time to do it. Because it wasn't summer or the high season it was pretty quiet, and so easy to get up close and personal with pieces that are usually surrounded by crowds like the Mona Lisa.
Foundation Louis Vuitton – With incredible rotating exhibiting and a unique permanent collection, the Foundation Louis Vuitton is not to be missed. The building itself (designed by Frank Gehry) alone is worth visiting. It's the perfect place to spend an afternoon in Paris.
Musée Rodin – The Musée Rodin is one of the most peaceful places in Paris. It showcases the beautiful work of sculptor Auguste Rodin housed in the former Hôtel Peyrenc de Moras.
Musée Picasso – There are over 5,000 pieces of Picasso's work housed at the Museum, taking you through his life and work. It is a must see!
Musée D'Orsay – Housed in an old train station – the Musée D'Orsay is stunning inside and out. While there you can see works by Monet, Cézanne, Van Gogh, Seurat, Degas, and Manet, among countless others. It is my husband's favorite, so we never miss it!
 Eiffel Tower – Yes, it is a tourist trap, and has long lines, but if you have never been you can't miss it. Even if you just grab some wine and cheese and have a picnic on the lawn.
Notre Dame – There are many gorgeous churches and cathedrals in Paris, but Notre Dame is certainly the most iconic. We also walk by there on the way to the Shakespeare Book Company, even if we don't go it.
Shakespeare and Company – I love a good bookstore and never miss this visiting this one when in Paris. It's nestled down the cutest street right near Notre Dame. Their collection is amazing, and it always feel so cozy and special. A friend of mine started a tradition of bringing my eldest a book back from her travels, and we took it on. We always bring them a book back from each trip to add to their library.
Walk down St Germain – I love to shop in the boutiques and designer stores on St Germain. We always take a stroll down the street and look around before stopping at La Dauphine, Café de Flore, or Les  Deux Magots for a coffee or lunch.
Sacré-Coeur – Located at the top of Montmartre, the Sacré-Coeur is a beautiful Basilica that looks out onto the city. If you stop in for a visit make sure to explore the neighborhood. It is one of my favorites in Paris.
WHERE TO EAT
Le Petit Retro – We discovered this bistro near our hotel on this trip and it is one of my all-time favorite restaurants in Paris. It is so charming, so perfectly Parisian, and the food is delicious. You feel like you have walked back into the 1940's when you enter and the traditional and seasonal French food is sure to delight. I will be going back every chance I get!
Clamato- We had the most incredible brunch at Clamato. It is primarily a seafood restaurant and was one of my most memorable meals from this trip. They were very accommodating of my food allergies and made a scallop sashimi with olive oil and lemon that tasted like little bites of heaven. This is now one of my won't miss restaurants when in the city.
Le Georges- The Welcome party was held at Le Georges at the top of the Centre Pompidou. The views of the city and Eiffel Tower from the restaurant were unbeatable and the food was delicious. The modern interior made for the most beautiful backdrop for a celebration. This is the perfect place to celebrate a special occasion.
Apicius – Our first visit to Apicius was on the recommendation of a friend who always knows the best places everywhere she goes. In a chic stand-alone building you feel so glamorous as you enter through the gates and the modern interior is clean but inviting. The food is out of this world and it always makes for a memorable evening.
Bistrot Paul Chêne – This restaurant is a darling intimate neighborhood spot with one of the best steaks I have had in Europe. The service was wonderful and they went out of their way to accommodate my food allergies.
Le Pré Catelan – This was the first truly luxurious meal I can remember having. Set within the Bois de Boulogne the 3 Michelin star restaurant is truly French fare at its finest. With incredible cheese, champagne, and imaginative yet delicious food, you will not be disappointed. It is perfect for a special occasion, or just because you are in Paris!
Auberge D'Chez Eux – Although this restaurant is small and unassuming, it has been around for 50 years, and has had presidents and dignitaries stop in for dinner. We went there the night before the birthday celebrations and it was perfect. The food was divine, the atmosphere was nice and cozy, and we were able to make it to the Eiffel Tower at midnight to celebrate.
Le Stella – The seafood platter was incredible. This is a perfect place to pop into for lunch if you are in the neighborhood.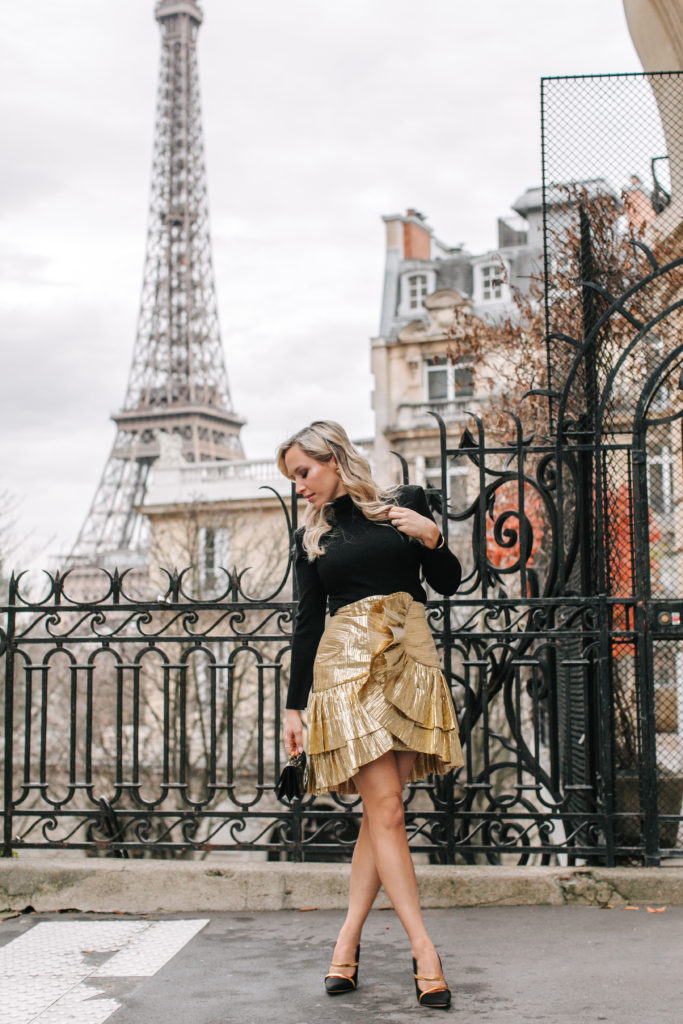 Shop My Paris Looks Below:

Photographer: http://www.gabialves.com
Hair and Makeup: http://www.allisondep.com/get-in-touch-makeup-artist-paris
Stylist: https://www.carlosalonsoparada.com